MICROSOFT DYNAMICS 365 - INTELLIGENT CLOUD BUSINESS APPS
Microsoft Dynamics 365 is the next generation of intelligent business applications that enable organizations to grow, evolve and transform. These applications unify CRM and ERP capabilities by delivering new purpose-built applications that work seamlessly together to help manage specific business functions across Sales, Customer Service, Operations, Financials, Field Service, Project Service Automation, Marketing, and Customer Insights.
Dynamics 365 integrates the Dynamics CRM and ERP products into one unified Cloud Service and delivers end to end business application functionality as a SaaS service in the Cloud. These apps can be consumed separately and together based on your needs. So you pay only for what you use.
Get individual apps that work brilliantly on their own or together – so you can tailor a solution to your needs. And with Business and Enterprise editions, you're covered from a few employees to thousands.
Help your employees work more efficiently. Dynamics 365 pulls together your business process apps and familiar Microsoft Office 365 tools. Employees can do CRM tasks in Outlook and ERP tasks in Excel.
Improve your decisions with data. With Microsoft Power BI, Cortana Intelligence, and Azure Machine Learning built in, Dynamics 365 helps you and your employees turn big data into actionable plans.
Give your teams easy-to-use applications that provide a single view of your data – and a single platform for business growth. They all work with Microsoft Power Apps and Microsoft Flow.
Business Apps under Dynamics 365
All the apps offered under Dynamics 365 work together seamlessly in the cloud. Each application solves real problems and delivers real value. But combine them and you get the power and possibilities to transform your business.
It is the Sales component/module of Dynamics CRM Online, but with unified user interface and improved business functionality.
Dynamics 365 For Customer Service
It is the Customer Service/module component of Dynamics CRM Online, but with unified user interface and improved business functionality.
Dynamics 365 For Field Service
This is the Field Service component/Module of Dynamics CRM Online, but with unified user interface and improved business functionality.
Dynamics 365 For Project Service Automation
This is the Project Service component/module of Dynamics CRM Online.
Dynamics 365 For Marketing
Microsoft recently announced that it fully will integrate Adobe Marketing cloud with Dynamics 365 and make it the preferable marketing app for Dynamics 365.
Dynamics 365 For Operations
This is the New Dynamics AX (AX 7) ERP that we all are familiar with. This is where most of the customers/prospects might get confused. The name "Dynamics 365 For Operations" misleads a little bit. This business app isreally targeted for the enterprise customers and obviously includes full advanced Financials functionality as well of AX 7. With this app, customers do NOT need to buy other Financials apps such as "Dynamics 365 for Financials". "Dynamics 365 for Operations has everything you need to manage your Operations, including Core Financials.
Dynamics 365 For Financials
This is the new Financials app of Dynamics 365(Earlier known as Project Madeira) and is primarily targeted for SMB customers in most cases. This does not include any of the advanced Operations functionality such as Manufacturing, E-commerce(Retail), advanced supply chain etc.
Dynamics 365 Pricing and Plans
Dynamics 365 is available in two editions/plans: Business Edition and Enterprise Edition.
Business Edition is the best fit for small and midsized organizations looking to manage their key financial, sales and marketing processes easier and faster with one cloud solution that gets more done.
Enterprise Edition is ideal for larger organizations with multiple business units that require more advanced financial, ERP and CRM functionalities. Applications including Operations, Sales, Marketing, Field Service, Project Service Automation and Customer Service can be independently deployed and added as needed.
Choice extends to pricing with Microsoft Dynamics 365. Get monthly plans—with apps packaged for savings—or standalone applications. Opt for full or light use. And select the edition that meets the needs of your large or small business, now and down the road.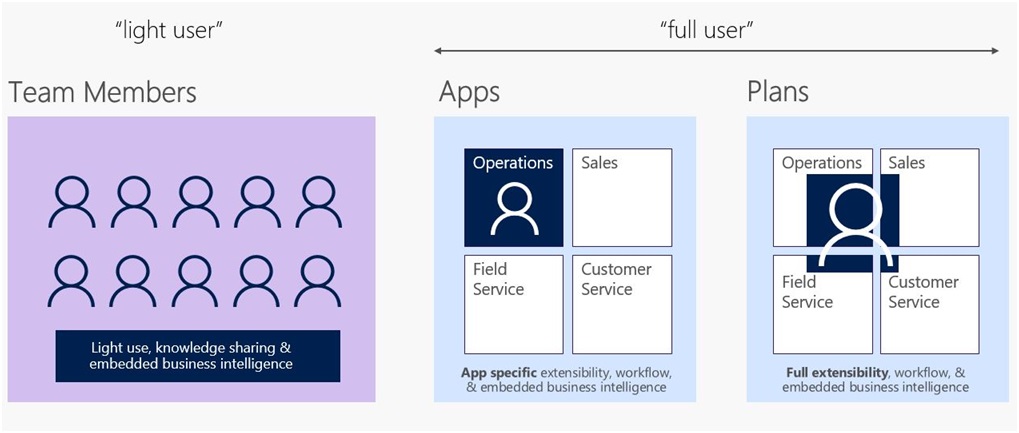 Visit the Pricing page for Dynamics 365 to get more details.
Drive your digital transformation with Dynamics 365
With digital intelligence on your side, you fill every customer interaction with personalized insight. And your conversations feel more fluid and natural across every touch point.
Dynamics 365 provides the insights your people need to make the best decisions and the tools they need to do their best work—ensuring great outcomes from your business software.
With complete ERP capabilities to streamline your operations and reduce your costs, Dynamics 365 enterprise business solutions help you grow your business and your bottom line.
By embedding technology into your products, you can start using shared data and digital intelligence to generate new insights, products, and business models—and discover new revenue sources.
Other Apps that works with Dynamics 365
A new dedicated app source for all business applications and add on solutions which are built for Dynamics 365 by partners and ISVs.
App Source is the new "app store" where business customers and prospects can find and buy solutions for any of the Microsoft technologies. This is the platform for Partners to publish their industry specific solutions for Microsoft Dynamics AX, Project Madeira, office 365, Power BI etc.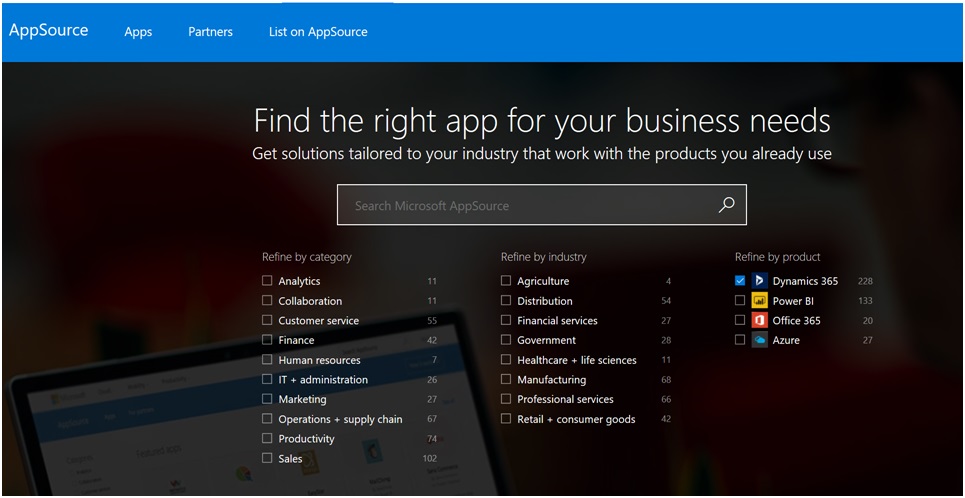 To learn more about Dynamics 365 and how it can help your business, contact our experts at [email protected].
If you are a partner looking for an extended team of Dynamics 365 experts, reach out to us at [email protected].